Sell Your Template
Most of the web designers keep themselves busy with their clients and don't realize that they are not getting the complete out of their potential. If you are a web designer who is offering web design /development services you can also make some income online by selling website templates.
Imagine creating what you want, when you want, from the comfort of your own home, making passive income whether you're working or not.
It does not take a lot of efforts and one template can bring you money for the next couple of years. If you have 10, 20, 50, or 100 templates available for purchase and each template costs a minimum of $20, let's assume that you made 20 sales daily. How much you will have? Isn't that good money?
Our Rates
If your item is approved for sale, you will receive a percentage of every sale into your account earnings. You have a choice on how you sell your items. As you upload your items to sell you choose to sell them exclusively or non-exclusively.
Earn up to 70%
As an exclusive author on the AS Marketplace you are eligible to earn up to 70% of every sale. The percentage for non-exclusive author will be discussed after your first item is approved for sale.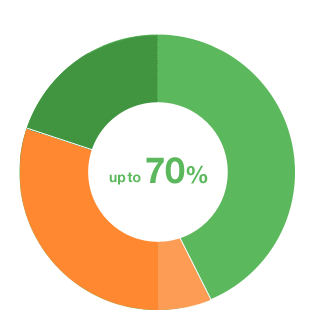 author earnings
gateways fees (PayPal, 2CO)
AS fees
Payments
Once your balance has reached $50, payout will be done automatically to a PayPal account that you specify.
Once your balance has reached $1000, you may request a payout transfer by Bank. Transfer payment includes additional fees and charges.
All payouts through PayPal or Bank transfer paid automatically on the last day of month. If the payout day falls on a weekend or Canada public holiday the payment will be made one business day before or day after.
How does it work?
As an author, you taking care to prepare your items properly according to our instructions which you will receive by email. Then, the item will be inspected by our review team to ensure the item works. If your item is approved, we will descuss an appropriate price and the item will then appear on our website.

If an item is not approved, we will provide some explanation on whether the item needs a small improvement to be accepted, or is not appropriate for sale here.
You must Sign In or Sign Up to start uploading your items